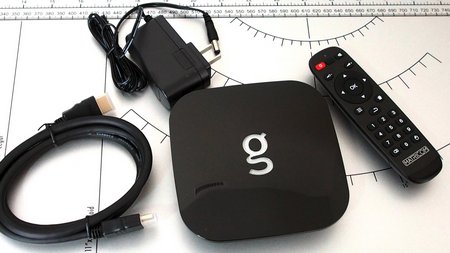 Rating: 5/10
I recently ordered a Matricom G-Box Q Android Set Top Box on Amazon.ca. I received it a week ago. I carefully researched the small Android "TV" boxes to try to find the best device to play back video, in a small form factor, at the best price.
The G-Box Q had good specs, favourable reviews, and was at good price point when I purchased. And their website and many reviews bragged about the ease of system upgrade, and that they promised to upgrade for free to 4K and H.265/HEVC playback capability.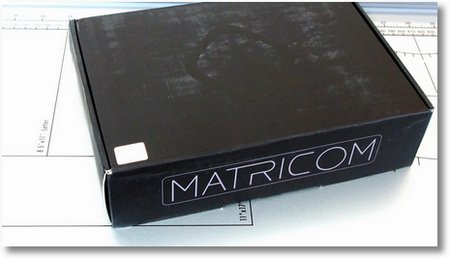 My system was shipped direct from the Matricom facility in Florida (according to Amazon.) Shipping was much faster than expected, and the item was received in working order. However I am rather disappointed with the product. Kodi/XBMC runs well on this unit and is very responsive. Playback is reasonable on most videos. Some are choppy however, from dropping frames. On the unit that I received, playback of true HEVC video is slow, choppy and unwatchable.
It runs Android 4.4.2, and they have a custom interface skin for launching Android apps and changing settings. Their interface is barely useable, with slow response, selection double clicks, and simply awkward. That part wasn't that big a deal, as I was going to use it 99% of the time with Kodi/XBMC.
Matricom brags in their marketing about ease of upgrade, and upgrading this device in their line up would be a priority. One of the reasons I selected this particular video player. But for a week, each time I went into their clumsy main interface, and tried to check for an update, it would display an error immediately. So after a week of failed update attempts, I emailed their support people. Their response was:
I apologize for the inconveniences you are having! Our servers are currently down, that is why you are receiving that prompt. The new update will be released within the month, when it is released, our servers will be back up and your box will automatically update!
I did some research online, and found many complaints in forums of the same upgrade error. They went back at least to December of 2014. So either their upgrade server has been down for 8 months, or is down most of the time in 8 months.
So I write support again asking about the future upgrade to 4K and H.265/HEVC video playback capability. And they said this:
The G-boxes hardware is actually not compatible with h.265 and x.265. If you need anything else, please do not hesitate to contact us again.

Thank you for choosing Matricom! Have a wonderful day!
So I did contact them again, a third time, and pointed this out:
There are numerous pages on your site for this product that claim that your company is going to push an update for this product that supports 4K video, and will include H.265.

For example:
"With the advent of H.265, we have begun working on developing libraries to interface the H.265 with Kodi/XBMC. H.265, which will be the codec that brings about 4K support inside of Kodi. Rest assured that Matricom is going to bring this technology to you first with the G-Box Q."
http://matricom.net/g-box-the-best-tv-box-for-kodi-xbmc/

How can you say that the hardware is not compatible? I purchased this device because of Matricom marketing saying they would release 4K video and H.265 support on the G-Box Q. Are these statements not true?
And 3 days later I still have not received a reply, even though their previous replies came within a few hours.
So as of this writing, the Matricom G-Box Q has decent specs, no upgrade capability, and according to the tech support person that I interacted with, their marketing that the unit can and will support 4K and H.265/HEVC video is not true.
Buyer be ware! The Matricom G-Box Q is NOT ready for prime time.
EDIT (2015-08-03):
Matricom Customer Support Finally did reply with an answer, admitting that their advertising is incorrect and misleading.
Dear Carey,
I do apologize sir for the mix up. The g-box Q does support 4k video, however it does not support h.265 and x.265 at the current moment. It is something that we have planned for the future of our boxes, but we are not currently working on h.265 capabilities. I do apologize, i have passed on the information you have give to us about the advertising for the h.265 advertisement and will get that sorted out. I do understand your frustration, If you like I can set you up with a return/refund for the unit if you like? If you need anything else, please do not hesitate to contact us again.

Thank you for choosing Matricom! Have a wonderful day!